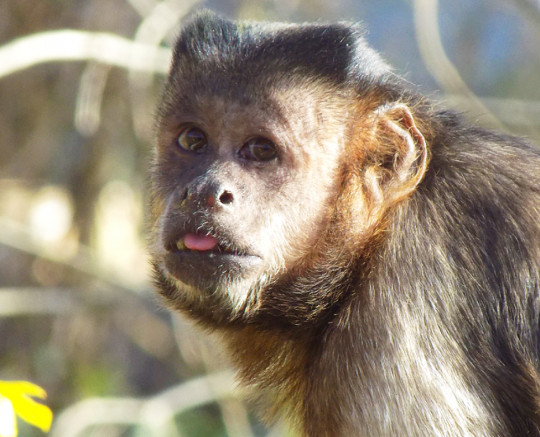 Name: Charlie Brown
Species: Capuchin
Who is he? The Friendly Boy

Specials skills: Being super-friendly and teaching new arrivals how to play!
Adopting
Adopting a monkey with Wild Futures really is a gift with a difference. Whether it's a gift for yourself or another, you will be supporting the work of our charity and enabling us to protect primates and their habitats worldwide. The monkeys featured in the adoption scheme reside at projects run by Wild Futures. Each monkey is unique with their own characters and personalities so please do check out their monkey pictures and profiles. As a Monkey adopter you will receive:
A cuddly monkey toy (optional)
Personalised certificate of your adoption
Photo of your adopted monkey
Your monkey's story
Species factsheet
Wild Futures newsletters throughout the year
Discounted entry fee to our Monkey Sanctuary
About Charlie Brown
Name: Charlie Brown
Species: Capuchin
Who is he? The Friendly Boy

Specials skills: Being super-friendly and teaching new arrivals how to play!
Charlie Brown came to our Sanctuary in 2005 from another sanctuary. His history is largely unknown, but we do know that at some point he was kept as a pet. As with most pet monkeys, it is highly likely that he was bred in the UK for the pet trade and sold as an infant, having been forcibly removed from his mother as young as a few days old. On arrival here he appeared to be a healthy young monkey with lustrous fur and high energy levels, but his psychological state gave clues that his previous life was not a happy one. He is known to pace and twist his head when he is stressed; abnormal behaviours often seen in animals that have been kept in poor captive conditions. Thankfully, Charlie now enjoys natural, spacious enclosures and lives with friends in a social group who help him forget his past. Despite his traumatic history, he has an incredibly gentle and kind character, so is often chosen to help new monkeys learn how to socialise in a safe environment. He just loves meeting new arrivals and teaching them how to play!
Adopting Charlie Brown means that you are helping to provide the resources needed to give Charlie Brown the best life possible. Your adoption also enables Wild Futures to continue its vital work campaigning for an end to the primate pet trade in the UK and abroad.

PLEASE NOTE:
Our adoptions are purely symbolic, which means you will not receive any real animals in the post! Monkeys are wild animals – not domesticated pets.
Click here for Adoption Scheme Terms and Conditions.
Click here for delivery information.