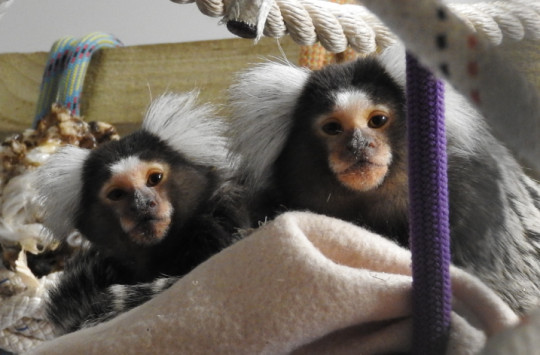 Names: Disco and Peanut
Species: Common Marmoset (Callithrix jacchus)

Who are they? The Protective Big Brother and the Inquisitive Little Sister
Special skills: Grooming each other
Adopting
Adopting a monkey with Wild Futures really is a gift with a difference. Whether it's a gift for yourself or another, you will be supporting the work of our charity and enabling us to protect primates and their habitats worldwide. The monkeys featured in the adoption scheme reside at projects run by Wild Futures. Each monkey is unique with their own characters and personalities so please do check out their monkey pictures and profiles. As a Monkey adopter you will receive:
A cuddly monkey toy (optional)
Personalised certificate of your adoption
Photo of your adopted monkey
Your monkey's story
Species factsheet
Wild Futures newsletters throughout the year
Discounted entry fee to our Monkey Sanctuary
About Disco and Peanut
Names: Disco and Peanut
Species: Common Marmoset (Callithrix jacchus)

Who are they? The Protective Big Brother and the Inquisitive Little Sister
Special skills: Grooming each other

Disco and Peanut were born and sold into the UK primate pet trade in 2010, and lived for seven years together as pets before arriving at the Monkey Sanctuary in November 2017. Disco is a very cautious monkey and doesn't trust people very easily. He takes a lot of comfort from his sister, Peanut, who he trusts the most. Peanut is a bit more confident than her brother, but is still quite nervous of people. When they first met their new care staff, they would both 'bristle strut' a lot – bristle strutting is a behaviour that marmosets do when they feel scared or threatened and want to show off how big and scary they are by puffing up their fur and stomping around. Thankfully, over time they began to trust all of their carers. Every morning when they wake up, they start the day by snuggling up together in a blanket on a hammock whilst waiting for their breakfast. After that, they head out for the morning, as they both really enjoy being outside. Neither of them are particularly happy when the weather is bad as this means they can't go out and enjoy a good forage in the grass or a play in the trees! When the weather is good however, they hardly spend a moment inside! They are both quite elderly for marmosets, but they show a zest for life that proves how much they want to enjoy their new life here and live it to the fullest!

Primates are intelligent and sociable animals and being kept as pets is a lonely, under-stimulating existence that can lead to abnormal behaviours. These behaviours may remain with the monkeys for the rest of their lives. But with enough environmental stimulation, social company, and lots of space with access to branches and trees, we can help these monkeys recover and offer them a stable, stimulating, and social life at the Sanctuary.
Adopting Disco and Peanut means that you are helping to provide the resources needed to give Disco and Peanut the best life possible. Your adoption also enables Wild Futures to continue its vital work campaigning for an end to the primate pet trade in the UK and abroad.
IMPORTANT INFORMATION:

Adopters will receive a photo of either Disco or Peanut.
Our adoptions are purely symbolic, which means you will not receive any real animals in the post! Monkeys are wild animals – not domesticated pets.
By purchasing a symbolic monkey adoption, you are agreeing to our Terms and Conditions.