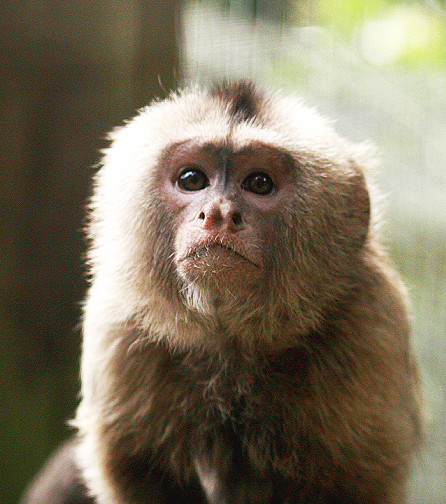 Name: Lodi
Species: Capuchin
Who is he? The Wannabe Tough Guy

Special skills: Making friends and being a gentle leader
Adopting
Adopting a monkey with Wild Futures really is a gift with a difference. Whether it's a gift for yourself or another, you will be supporting the work of our charity and enabling us to protect primates and their habitats worldwide. The monkeys featured in the adoption scheme reside at projects run by Wild Futures. Each monkey is unique with their own characters and personalities so please do check out their monkey pictures and profiles. As a Monkey adopter you will receive:
A cuddly monkey toy (optional)
Personalised certificate of your adoption
Photo of your adopted monkey
Your monkey's story
Species factsheet
Wild Futures newsletters throughout the year
Discounted entry fee to our Monkey Sanctuary
About Lodi
Name: Lodi
Species: Capuchin
Who is he? The Wannabe Tough Guy

Special skills: Making friends and being a gentle leader
Lodi was born in the wild where his mother was likely killed so that he could be smuggled as an infant into Europe using falsified importation papers. He was then kept as a pet in Spain, isolated and unable to express any natural behaviours. Thankfully, that all changed for him when we were made aware and offered him a much needed home for life, amongst others of his own kind.
On arrival at our Sanctuary in June 2011, he was underweight and nervous, but soon made it very obvious that he was desperate to meet the other monkeys! He was keen to meet his new neighbours and make friends, but the start of his new life was hindered as his social skills left a lot to be desired for! This was due him to having been deprived of monkey companionship, so he had never learned the correct behaviours.
Over the years, however, he has learned how to be a monkey and has even risen to the top social position of alpha male! Lodi is a kind but firm leader who his group look up to and respect.
Primates are intelligent and sociable animals and being kept as pets is a lonely, under-stimulating existence that can lead to abnormal behaviours. These behaviours may remain with the monkeys for the rest of their lives, but with enough environmental stimulation, social company, and lots of territory space with access to branches and trees, we can help these monkeys recover and offer them a stable, stimulating, and social life at the Sanctuary.
Adopting Lodi means that you are helping to provide the resources needed to give Lodi the best life possible. Your adoption also enables Wild Futures to continue its vital work campaigning for an end to the primate pet trade in the UK and abroad.
PLEASE NOTE:
Our adoptions are purely symbolic, which means you will not receive any real animals in the post! Monkeys are wild animals – not domesticated pets.
Click here for Adoption Scheme Terms and Conditions.
Click here for delivery information.