European Voluntary Service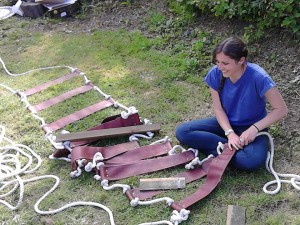 Volunteering through EVS provides young people (18-30) with a real life long international learning experience. All projects are voluntary and unpaid but the scheme is fully funded by the European Commission in order to make the projects as accessible to young people as possible. The project costs and volunteers expenses are covered by the grant. The grant covers travel (10% of travel is not funded therefore volunteers may need to fundraise the nominal cost), medical insurance, food, accommodation, and training. You will also receive "pocket money" every month!
Wild Futures has been accredited as a Hosting, Sending and Coordinating organisation.

Hosting projects
We host long term projects to international volunteers in Primate Care, Education, PR and Fundraising, Volunteer Management and Sustainable Management. These projects are not available all the time so please see below for vacancies.  No qualifications are needed; however, a good work ethic and an affinity to animals is important!
Project availability:
We currently have 15 projects available,  Download our project information pack to find out more about each of the projects available. 
If you are an EU citizen living outside of the U.K. and would like to participate in one of the projects available please fill out this application form and email it along with your letter of motivation to EVS@wildfutures.org.
Although there is no cost to the volunteer it takes a lot of time, energy and money for Wild Futures to apply for an EVS grant, so before applying please think carefully whether you are motivated enough to undertake the project.
Sending Projects

If you live in the UK and want to take part in an EVS project abroad, we can help you find and prepare you for your placement. Please email your interest to EVS@wildfutures.org to receive more information on how we can help.
Alternatively for more information about EVS and how to apply please contact EVS@wildfutures.org.