Fundraising cycle for Wild Futures!
To raise funds for our charity, a team of four friends decided to cycle the distance from Land's End to John O'Groats. The team consists of two members of our maintenance team plus two supporters.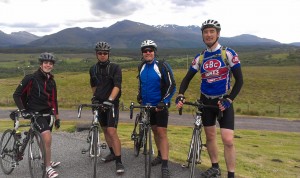 They aim to raise £20,000 to enable us to build a new enclosure for our Barbary macaque monkeys living at our flagship project The Monkey Sanctuary.
The group spent months busy training up for the mammoth distance of 963 miles from May 29th to June 9th 2012. In the lead up to the challenge they also organised other events including a curry night and bingo night.
If you would like to support them in raising funds for the much needed enclosure you can donate at www.justgiving.com/cycle4wildfutures or text WILD64 £5 to 70070.
UPDATE
The team have now completed the cycle and were greeted back with a warm welcome. They had lots of ups and downs along the way over 950 miles, from hills, broken bikes, crashes, midge attackes and even having to buy a new bike! We are so proud of them for their effort and determination to raise funds for the new enclosure.
To read about their progress visit out facebook page. Below is a selection of images from the trip. You can still support the guys and our Barbary boys by donating, simply text WILD64 £5 to 70070. Thank you!
A message from the team
'Can we just say thanks to a few people now we're back:
Sean's parents and sister for providing accommodation and food.
Campsites that gave us free pitches; Gibson's Farm, Garstang and Yeoland's Farm, Clevedon. Also other sites that gave us discounted rates; Green Acres Caravan Park, Carlisle and Dornoch Camping and Caravan Club.
A big thank you to people who donated en route, especially the lovely ladies doing E2E in their Bongo Van, hope you made it, let us know.
Family and friends that have collected money and donated generously.
It will be a few weeks before we have a final figure of funds raised, as people now have time to collect the pledged donations and the justgiving site is still active for a while.
Still time to make a donation to our fab four!  So a massive thank you everyone, you made all the effort worth it.'