Wild Futures celebrates winning two awards at the Cornwall Tourism Awards
With 25 award categories at the Cornwall tourism awards covering everything from hotels and restaurants to activities and tourist information, Wild Futures' Monkey Sanctuary received bronze award for the wildlife friendly tourism category and silver award for sustainable tourism category as well as highly commended for the small visitor attraction category.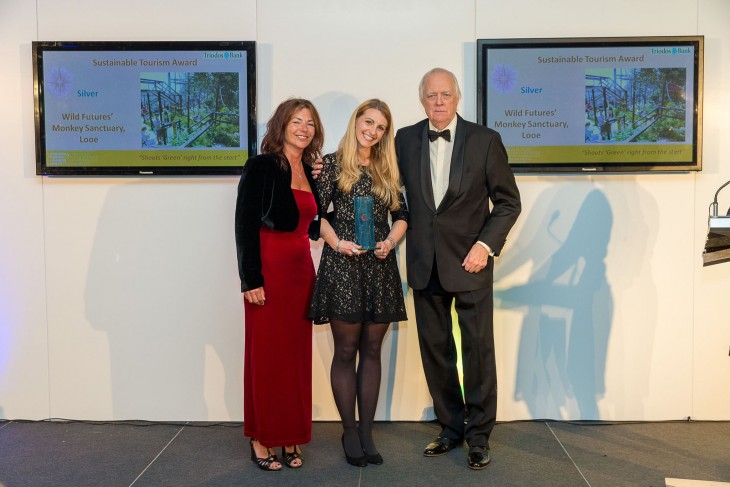 The prestigious awards ceremony took place at The Headland Hotel in Newquay on the 3rd of November and saw over 70 awards being given out. The awards celebration was enhanced by lyricist and cricket enthusiast Sir Tim Rice who shared anecdotes from his workings with Andrew Lloyd Webber and Elton John.
Wild Futures' Monkey Sanctuary is overwhelmed to have been awarded these prizes. PR and Fundraising Officer for Wild Futures, Sarah Hanson stated:
We are so proud to have won these awards, as a small local charity it is incredible to see our hard work paying off. Not only are the awards recognition for what we can offer for the valued tourists who visit us each year, but it also shows that we are fulfilling our goals as a charity".
Wild Futures cares for over 30 rescued monkeys at their flagship project The Monkey Sanctuary and visitors can come and visit the monkeys from February to November. As well as learning about the rescued monkeys at The Monkey Sanctuary, visitors can get involved in wildlife activities such as bug box making, get interactive in the 'Wildlife Room', watch bats via a live link to a roost in the cellar of the old house and explore the extensive wildlife gardens, home to more than 385 different wildlife species including, badgers, lizards, foxes, deer, the lesser horseshoe bat and the rare Pearl bordered fritillary butterfly. There are also ample opportunities to learn about sustainability and sustainable living.