The Patient Boss, the Spoilt one and the Trouble Maker
What comes to mind when you see this title? It probably won't be that they are the nicknames for three monkeys that reside at Wild Futures' Monkey Sanctuary near Looe, Cornwall!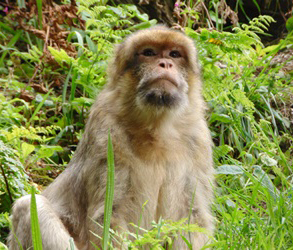 Wild Futures is a registered charity founded upon over five decades of experience as a leader in the field of primate welfare and conservation, environmental education and sustainable practice. Their flagship project 'The Monkey Sanctuary' is home to primates rescued from situations of abuse and neglect.
Mario, Chico and Donkey are the real names of the three Barbary macaques that reside at the sanctuary. They arrived in 2008, originally being rescued from the trade in France. Their histories are somewhat unknown due to being in the trade but all three have had traumatic pasts.
Donkey – The spoilt one. Donkey was probably born in the wild in North Africa.  As a youngster, he was confiscated from a travelling circus in France, where he is said to have been treated brutally.  His behaviour bears this out.
Suspicious by nature, Donkey does not trust humans easily, and can be uneasy about children.  But his long-term carers have managed to gain his trust, and he enjoys spending a bit of quiet time near his preferred humans when he can.  Perhaps because of his particularly traumatic early life, Donkey is socially unskilled and his two group-mates are clearly dominant over him.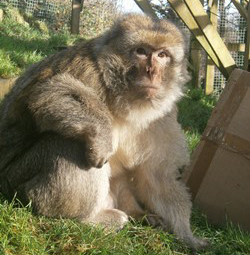 Chico. Chico is an energetic and ambitious Barbary macaque who was confiscated as a youngster from a pet owner in Paris.
Chico sometimes has a hard time accepting the role of "second-in-command" – in his small social group – he wants to be the boss!  On any given day, you may see him trying to initiate friendly interactions with Donkey (his only subordinate), or being somewhat overbearing with him – depending on the mood of the day.  Chico seems to consider his human carers to be an extension of his social group, and given the chance, will try to use them for social gain in many of the same ways he uses Donkey! For this reason he is known as the trouble maker!
Mario – The patient boss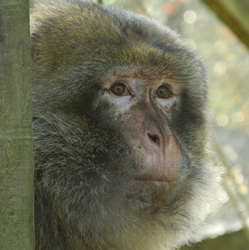 Mario was most likely born in the wild in North Africa, and incredibly, the first thing we know for sure about him is that he was found as a youngster, in Paris, tied to a lamppost!
Mario is a skilled leader. He does not seek out conflict with his sometimes-rival Chico, but when Chico goes too far, Mario makes it clear who is in charge. He is quite reserved with his human keepers, and seems to most enjoy sitting atop a high perch in his territory and surveying the world around him.  Perhaps the most excited we have seen Mario was when a stray cow wandered down into the monkey territory one evening – he did a great job alerting everyone to the danger!
The Monkey Sanctuary reopens its gates to visitors in February half term which gives a great opportunity to get to see the Barbary macaques as well as all the other monkeys that reside at The Sanctuary. For more information visit www.wildfutures.org.