Jerry the monkey steps outside for the first time in two years thanks to Wild Futures supporters!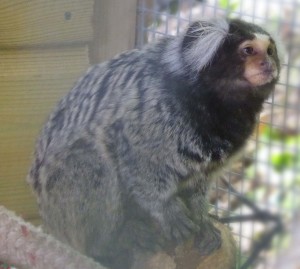 Following a public appeal, Wild Futures, the primate welfare and conservation charity, has rescued a marmoset monkey named Jerry from the UK primate pet trade and brought him to their sanctuary in Looe, Cornwall.
Thanks to generous public support, Wild Futures raised over £2600 and were able to transport Jerry safely to The Monkey Sanctuary, pay for his initial veterinary check, and provide another temporary enclosure. Now he is at the Sanctuary, Wild Futures can give him the specialist care and attention to he needs to live a full and interesting life. Last week, Jerry stepped outside for the first time in two years and felt the warm sun on his pale skin.
Jerry's pet home was so far from The Monkey Sanctuary that a small rescue team set off the day before the rescue to allow plenty of time. Lee Swanson, one of the rescue team, said: "Everything went very well. We went to his old home the day before we brought him back to Cornwall. Our main priority was to make the whole rescue as stress free as possible for Jerry, so we wanted to be prepared. Returning early on the Friday morning, using our custom built catching equipment, we quickly got Jerry into the transport cage and we were on our way to his new life at The Monkey Sanctuary!"
Jerry's exact age is unknown as his history is unclear, it's believed that he is around 3 or 4 years old and has been kept as a pet in at least two different homes. He lived in a small cage for two years, with no access to an outdoor space. It is likely that Jerry was taken from his mother at just weeks old and tragically, for a highly social monkey, he has been kept in a life of isolation for most of his life.
In the wild, common marmosets live in extended family groups of 3-15 individuals; they will forage together and sleep together. At Wild Futures' Monkey Sanctuary, Jerry now has the chance to be a monkey again, he will live in specially designed enclosures and afforded expert care.
Lee added: "It is wonderful that we managed to raise most of the funds to cover the cost of Jerry's entire rescue and initial care. We are extremely grateful to everyone who supported Jerry's appeal and helped us to change his life for the better."
Sadly, Wild Futures has seen a huge increase in enquiries to rescue marmosets. In response they launched their Mission Marmoset Appeal last year. Campaigns Officer, Sarah Hanson, said: "Marmosets are becoming increasingly popular in the UK primate pet trade and there is little regulation in place to protect them. Rescue centres and sanctuaries have reached crisis point, with monkeys in need being turned away. Desperate to help, we launched an appeal to raise £70,000 to build specialist enclosures on site. We are half way there and hope to have the first part of that big build complete by autumn 2017, but more donations are needed to continue and rescue more marmosets. "
Sarah added: "With marmosets on our waiting list, and an increasing amount of calls to help rescue more, the more people who know about Jerry's story and the plight of others like him in the trade, the better. Wild Futures will continue to campaign to end this cruel trade. Our dream is that we no longer receive these heart-breaking calls for help."
For updates on how Jerry is getting on please go to our Facebook page: https://www.facebook.com/wildfutures/
If you want to donate to our Mission Marmoset Appeal to help rescue other monkeys just like Jerry, you can find our more information here: https://www.wildfutures.org/get-involved/marmoset-appeal/