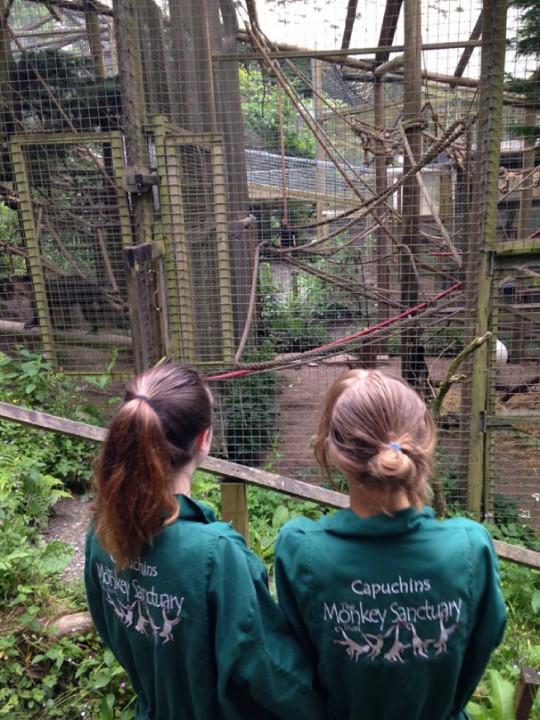 Keeper For a Day: Two People
£250.00
Description
Keeper for a Day: Two People - **2022 is almost FULLY BOOKED**
Our Keeper for a Day experience provides a once in a lifetime opportunity to gain a unique insight into the day-to-day life of the carers at a working monkey sanctuary in Cornwall. Wild Futures rescues monkeys from the UK pet trade and rehabilitates them to live their most natural life possible. Therefore, there will be no hands-on contact with any of the monkeys at any time during the experience, but everything you do will directly benefit the monkeys so we are sure the day will be a fulfilling one.

All the money we raise through this scheme goes to support our charity's work, so your day as a primate carer will be making an important difference to the lives of primates!
Start the day by meeting one of the sanctuary's dedicated primate care staff for a talk before mucking in to clean out the monkey enclosures! Then spend the rest of the day meeting our rescued monkeys and listening to all of their incredible stories, as well as helping to forage for edible wild leaves for them to eat and making them some fun enrichment to enjoy!

PLEASE read the following information carefully PRIOR to purchasing an experience:

Available: Mondays and Saturdays only from April-October (excluding all school holidays). Days may be subject to change and are on a first come, first served basis.
Unfortunately, experiences are not available to anyone under 18 years of age.
There will be no hands-on contact with any of the monkeys at any time.
Your experience is valid for a year from purchase.
There is some heavy lifting and steep paths involved, so a reasonable level of physical fitness is necessary.
All dates are subject to availability. Only one experience can be run per day and the dates fill up quickly so it is advised that you book well in advance to avoid disappointment! All potential dates must be confirmed by our team in writing, email or by telephone before being considered booked in. Please do not book holidays or commitments prior to your date being confirmed by the team.
All experiences are booked via email. Please do not assume your experience is booked until you have your pack with the experience date stated.
It is recommended you wear clothes and footwear suitable for working in an outdoor environment in all weather conditions.
The wearing of face masks is mandatory on all experiences.
We are a very small team whose priority is always the welfare of the monkeys in our care, and that does hinder our ability to offer more dates.
Please be aware that on-site we handle nuts, seeds, grapes and various other allergens daily – it is likely to be part of the experience.
Included in the Keeper for a Day experience is:

A day's one-to-one supervision and training by experienced members of the Primate Welfare Team
A light, vegan lunch consisting of a pasty and a slice of cake (optional)
A certificate of your day
A gift to take home
"Friends of Wild Futures" membership for one year
This unique opportunity to be a primate keeper for a day is £160 per person or £250 for two people.

For any further information then please contact: [email protected]

Comments from previous Keeper for a Day participants:

"We both had a thoroughly enjoyable day and loved all of it. It is a beautiful place and it shows everyone cares enormously about the welfare of each and every monkey. Thank you so much for giving us a day never to be forgotten. We shall definitely re-visit next year."
"Well what can I say - absolutely wonderful experience. This was bought as a gift for me from my parents for my 18th birthday some 18 months ago, but because of Covid we couldn't go. The experience was for 2 people so my Mum could enjoy this with me. The long awaited experience was well worth the wait! The itinery for the day was well thought out, and we cleaned the monkey's cage, helped feed them and were able to go behind the scenes to see how the sanctuary is run. The staff were so knowledgeable and helpful and are very passionate about their work. All in all a very memorable experience from start to finish."
"My family and friends jointly treated me to this fantastic experience for my 60th birthday. From arrival to departure we had a fantastic experience. The staff were both friendly and knowledgeable and were more than accommodating throughout the day. Every person that showed us around was both enthusiastic about their involvement with the monkeys and happy to show us what they do. The whole day was a fantastic experience which I would love to do again and recommend to everyone who loves monkeys."
"My daughter bought me the Keeper for the Day gift for my birthday. I can honestly say that it was a great gift. The day was made wonderful by the lovely staff. You could feel the real devotion they have for the primates in their care. Also how proud they are to be able to work with them. They also put themselves out to make sure I was enjoying the experience. Thank you all for the incredible day you all gave me."

Please Note: As a 'hands on' experience, you will be required to work alongside the primate welfare team in any weather conditions. The work does require some physical exertion so a relatively good level of fitness is required. Please ask for advice if you have any medical condition or disability that you are concerned may affect your ability to enjoy the experience to the full. We will make every effort to adapt the experience to your needs. There is no direct contact with the monkeys at any point during the day. For insurance purposes, the scheme is only open to those aged 18 and over. Pregnant people are not able to participate in this experience.