Ouch….Oliver and his friends need your help!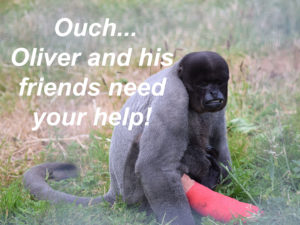 An unusual rise in monkey care costs this year means that we have already spent our normal annual veterinary budget in just three months.   
As a result, we are launching an urgent appeal. Please can you help the monk

eys?
Thanks to your invaluable continued support we are able to give the best possible lifelong care to all of our monkeys here at our sanctuary, as well as rescue more victims of the primate pet trade and pursue our charitable aims to raise awareness of the welfare and conservation issues of monkeys being kept inappropriately in captivity as pets in the UK.
Often, we are able to tell you happy stories of our rescued resident monkeys living in the most natural setting that can be offered to them at The Monkey Sanctuary. The good news is that, thanks to your support, we have already built two stages of a brand new marmoset facility. These tiny monkeys are sadly are becoming increasingly popular as pets, and our regular Winter Appeal attracted much-needed funding and supplies to keep the monkeys well-fed over the winter months. We are also thrilled that we were able to respond recently to two urgent rescue requests, which resulted in ten marmosets removed from the trade – fantastic news indeed.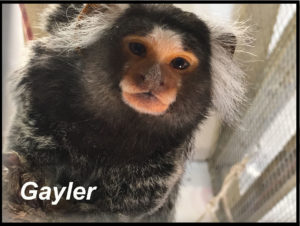 Sadly though, sometimes things happen for which we cannot prepare and the first half of 2018 has been a turbulent time for the monkeys and staff at Wild Futures. The stark reality of monkeys being kept inappropriately as pets in the UK was made apparent when we rescued Gayler. Having raced to rescue her from her life spent in a bird cage, she had two happy weeks at the sanctuary before she passed away with health complications due to inadequate care as a pet.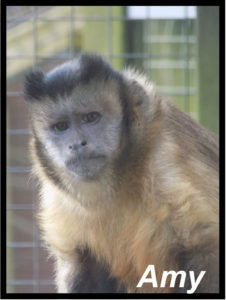 Not long after we lost Gayler we suffered more heartache with the sudden and unexpected death of our beloved capuchin Amy who was loved intensely by the monkeys, staff and supporters alike.
We thought our turbulent times were behind us, when we woke one morning to find Oliver, our strong-willed woolly monkey, with his back leg dangling lifeless beside him. We rushed him to the vets, and we were perplexed to find the leg was not broken but the problem was unclear. The next few weeks saw Oliver visiting the vets every few days while we tried to save his leg. Although not out of the woods, his strong, determined character astonishes us every day as he builds his strength and adapts to life without the use of his leg. We are hopeful that Oliver can recover but meanwhile he will be under close veterinary care and receiving daily treatment and medication.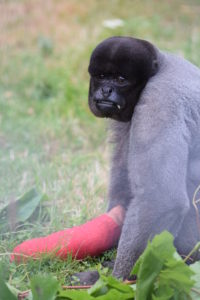 We take responsibility for every monkey we rescue, and the legacy of the pet trade often leads to big veterinary bills. When a monkey dies, we choose to investigate thoroughly because it will help other primates and provide evidence for our campaign to end the primate pet trade, but again, these necessary costs are high.
These events alone have impacted hugely on our veterinary and welfare costs and we are launching a short three-month appeal to ask our friends and supporters to consider whether they might help. We estimate that our total cost for monkey healthcare this year will be around £40,000 and we have set ourselves a target to raise £20,000 between now and the end of October to help us cover the costs of these unexpected situations and make sure we have sufficient funds for the rest of the year. We are so pleased to have already received £2,000 towards our target, and we hope that more will start coming in shortly.

Your donations will not only help cover the costs of Oliver's ongoing treatment for his leg, or the mounting vet bills from our sad deaths and incredible rescues, but also the ongoing care of Grips, one of our diabetic monkeys who needs daily insulin injections to control his diabetes, Chico the Barbary macaque who needs important dental work; or Frosty who is on pain relief for his arthritis.

However big or small your donation WILL make a huge difference and help us continue to care for the monkeys at our sanctuary and carry on the vitally important work we do in protecting primates  and  bringing an end to the keeping of primates as pets.
Many, many thanks from us all – or as Oliver the woolly monkey would say: Eeolk!