Parcels for Primates; Monkey Wish List Appeal!
Carers at Wild Futures' Monkey Sanctuary are appealing for supporters to send in essential wish list items for the resident monkeys!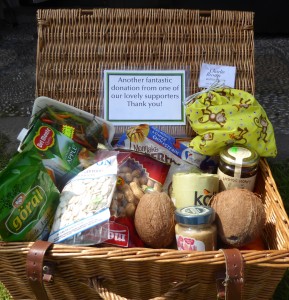 With more monkeys to care for than ever before, we have more mouths to feed and higher bills to pay. Rocketing prices of their favourite treats means that we need your help!
If you are visiting the Sanctuary, you could bring along a treat-filled box or just send one or two items via post- anything would be a great help and much appreciated by the monkeys!
Most of the items on our wish list are readily available in supermarkets, pet stores or health food shops, so you could just add a little something to your weekly shop or order online and have it delivered straight to the monkeys – Waitrose, Sainsburys, Asda and Ocado all deliver to The Monkey Sanctuary!
If you're an adopter, please tell us who you would like your care package to be for, so that one of their carers can let you know their favourite snacks and treats.
Only with your support and generosity are we able to continue to give our rescued monkeys the best life possible. By helping our charity, your generous donation will contribute towards the costs of caring for the rescued monkeys at the Sanctuary and protecting the habitats of their fellow primates worldwide.
On behalf of the monkeys, thank you!
Treats and snacks: 

Unsalted nuts- shelled/unshelled

(peanuts, almonds, walnuts, hazels, brazils, pecans)

Oat/wheat/rye flakes

Unsalted rice cakes

Pumpkin/sunflower seeds (not bird seed)

Un-popped plain popcorn

Wholewheat pasta

Couscous

Apple juice concentrate

Dried Beans and Lentils: 

Black Turtle Beans 

Dark Speckled Lentils

Chickpeas

Yellow Split Peas 

Aduki Beans

Mung Beans

Butter Beans

Red Split Lentils

Fresh foods:

Apples

Pears

Avocado

Corn-on-the-cob

Cherry tomatoes

Salad Veg (lettuce, red pepper, cucumber, courgette, carrots)

Exotic/soft fruits (berries, pineapple, melons etc. grapes are a favourite!)

Coconuts

Enrichment items: 

'Kong' toys (all sizes)

Rope toys

Tennis balls

Footballs

Paddling pools (hard plastic type)

Honey

Chilli peppers

Healthcare:

Fleece blankets (for comfort and warmth)

Rescue remedy (treatment for anxiety and stress)

Floradix (a nutritious food supplement)

Abidec Multivitamin Drops for Babies & Children (drops not syrup)

Complan (Original Flavour)

Milk Thistle

Practical Everyday Items:

Microwave

Cooking utensils (good quality / heavy duty)

Pot and pans (good quality / heavy duty)

Baking trays (good quality / heavy duty)

Rubber Gloves (heavy duty)

J cloths – red, green and blue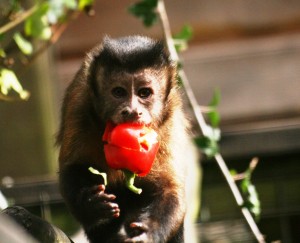 Please contact the primate carers on fundraising@wildfutures.org if you have any questions or ideas about your gifts for the monkeys. Make sure you include a note with your parcel so that we are able to send a thank you!