How You Can Help – Volunteer
We have many volunteering opportunities available with our charity outlined below.
Residential Volunteers
Wild Futures' Monkey Sanctuary hosts up to 10 volunteers at a time in shared accommodation in our Sanctuary house all year round. Short-term placements run from 2-6 weeks, and long-term for up to 3 months. No qualifications are needed.
The Monkey Sanctuary relies upon the help of volunteers for many things and could not function without them.  Many people who visit or read about the Sanctuary are interested in learning more about the  monkeys and what it is like behind the scenes.  We also have many overseas volunteers who have a good knowledge of the English language and are looking to practice their English in a working environment – The Monkey Sanctuary is a great way to do this.
Although volunteers do not work directly with the monkeys, they do help make sure that things run smoothly.  All year round volunteers help to clean the monkey territory, learn to collect wild leaves, prepare food and make enrichment items for the monkeys and hear talks from keeper about the monkeys.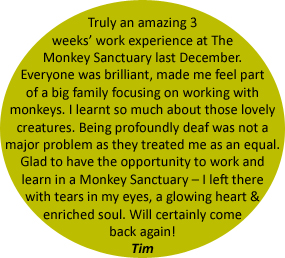 For many volunteers, their time at the Sanctuary is their first experience of communal living.  You do not need any special skills to become a volunteer, but you need to be over 18 and have a good working knowledge of the English language and a general concern for animals and nature.
This type of volunteering is also available for local volunteers who can support The Monkey Sanctuary for a day a week / fortnight who do not require accommodation.
Please contact volunteer@wildfutures.org for more details.
Work Experience
Work experience placements are also available, please contact the Wild Futures Volunteer Coordinator on volunteer@wildfutures.org.
Ambassadors
Wild Futures Ambassadors are volunteers who help fundraise and raise awareness of Wild Futures in their local area.  This is a great way for increasing your knowledge on primate welfare and can be a great thing to have on your CV, if studying for animal or environmental related qualifications.  Find out how to become an Ambassador.