Monkey Wish List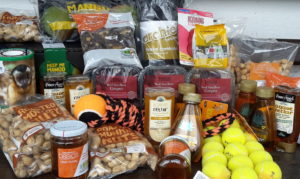 If you would like to send the monkeys a gift, please read the wish list below for ideas on what they need and like!
As a charity, we rely on the generous donations of our wonderful supporters to help us continue our vital work. This includes food, enrichment and practical everyday items that help us to provide the best life possible for the rescued monkeys at The Monkey Sanctuary.
If you are visiting the Sanctuary, you could bring along a treat-filled box or just send some items via post– anything would be a great help and much appreciated by the monkeys!
Most of the items on our wish list are readily available online, in supermarkets or in health food shops, so you can just add a little something to your weekly shop or order online and have it delivered straight to the monkeys! You can also order items for The Monkey Sanctuary via Amazon (click here to see our Amazon Wish List).
If you're an adopter, please tell us who you would like your care package to be for, so that one of their carers can let you know their favourite treats!
Only with your support and generosity are we able to continue to give our rescued monkeys the best life possible. By helping our charity, your generous donation will contribute towards the costs of caring for the rescued monkeys at the Sanctuary and protecting the habitats of their fellow primates worldwide.
On behalf of the monkeys, thank you!
Treats and snacks: 

Unsalted nuts (shelled or unshelled) –

(peanuts, almonds, walnuts, hazels, brazils, pecans)

Oats

Dried fruit

Unsalted rice cakes

Un-popped plain popcorn

Cous-cous

Dried Beans and Lentils: 

Red Split Lentils

Pearl Barley

Buckwheat

Mung Beans

Butter Beans

Millet grain

Chickpeas

Fresh foods:

Apples and Pears

Avocado

Corn-on-the-cob and cherry tomatoes

Coconuts

Salad Veg (lettuce, red pepper, cucumber, courgette, carrots)

Exotic/soft fruits (berries, pineapple, melons etc. grapes are a favourite!)

Enrichment items: 

'Kong' toys (all sizes)

Tennis balls

Footballs

Rope (for hanging up enrichment in enclosures)

Chili peppers

Healthcare:

Practical Everyday Items:

Chopping boards (for preparing monkey food)

Food bowl (for preparing monkey food)

Buckets (for cleaning monkey enclosures)

Pot and pans (good quality / heavy duty)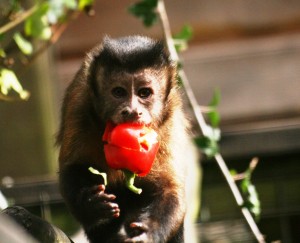 If you have any questions or ideas about your gifts for the monkeys please contact the team at

[email protected]

. When sending your parcel, make sure you include a note so that we are able to send a thank you! Our address is The Monkey Sanctuary, Murrayton House, St. Martin, Looe, Cornwall, PL13 1NZ.