Become an Ambassador for Wild Futures 
We are looking for enthusiastic individuals to join our Ambassador scheme and become the face of Wild Futures in their communities.
Wild Futures Ambassadors are a network of volunteers across the country, who support us by organising fundraising activities, representing Wild Futures in their local area and helping to engage people with the work and aims of our charity.
Could you be an Ambassador for Wild Futures?
There are lots of different ways in which you can make a difference and support Wild Futures, here are a few suggestions: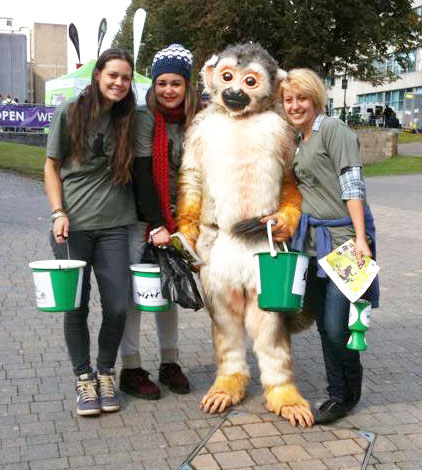 Organise a fundraising event; from a coffee morning to a jungle party – the opportunities are endless!
Set up a small fundraising group or committee with friends, family or colleagues
Encourage people to support our campaign to end the trade of primates as pets
Give short talks or presentations to groups in your area about the work and aims of Wild Futures and The Monkey Sanctuary
Distribute collection tins to shops, cafes, restaurants etc. in your local community
Hold or help at a street or supermarket collection in your area
Research any charity of the year or fundraising support opportunities in your area
Source auction or raffle prizes for our supporter events
Take part in an organised event to raise funds for Wild Futures
Volunteer at one of our forthcoming events
We do not expect every Ambassador to do all of the above; just doing one or two things can really help. The depth of your involvement as an Ambassador is completely up to you.
Our commitment to you
Wild Futures is dedicated to supporting its Ambassadors as much as possible.  Ambassadors can contact us at any time for advice and support, and we can provide various resources to aid fundraising events as needed.
Join the team today! 
Contact us on fundraising@wildfutures.org to discuss how you can get involved now.
Your support will make a huge difference in help us to protect primates and habitats worldwide.