Joey's Story by Stephen Fry
Joey the capuchin monkey, was stolen from the rainforest at just 3 months old. His mother was killed for bush meat.
This film was produced by Environment Films
Flown from South America to the UK, Joey was locked in a tiny cage in a flat in Camden Town for 9 years.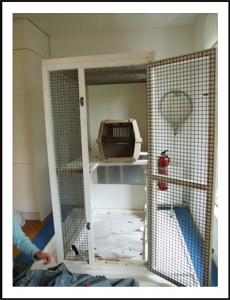 He was deprived of the company of his own kind, unable to exercise, had no access to natural sunlight and became crippled by bone disease. He has a misshapen pelvis, curved spine, poorly formed teeth and jaws and will always be severely disabled.
Joey's life was changed in 2007, when he was rescued by our charity, Wild Futures, and was brought to live at the Monkey Sanctuary. Here, with the help of our dedicated team of Primate Keepers, Joey has learnt to live like a monkey at last, having access to plenty of space indoors and out, a proper healthy diet and most importantly, lots of monkey friends.
To be able to carry out this vital rescue and rehabilitation work, Wild Futures needs you.
By adopting a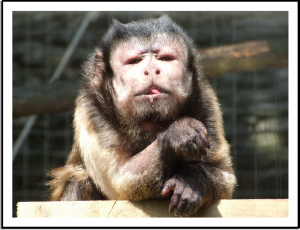 monkey, you will help Wild Futures care for monkeys in need, rescue more from situations of isolation and neglect and help fight this cruel trade to protect monkeys in the future. As well as this work in the UK, you will be supporting projects overseas, helping to protect habitats and primates worldwide.
 Adopt Joey or one of his friends today to help give all primates a wild future.

Or download our Adoption application form to adopt by post

Stephen Fry has adopted Joey and says: "We are meant to be a nation of animal lovers, so why the trade in a wild, social animal with complex needs is still legal, continues to astound me. Joey's story is not unique – many of the monkeys rescued by Wild Futures have their own terrible tales. Taking part in this project was important to me and I sincerely hope that many people are moved to support Wild Futures' work, so that the charity can campaign to put an end to the trade and rescue more monkeys in need."

Other ways to get involved
There are lots of other great ways you can help monkeys like Joey. By supporting Wild Futures through fundraising events, volunteering and visiting our project, The Monkey Sanctuary, you will make a difference to the lives of monkeys like Joey.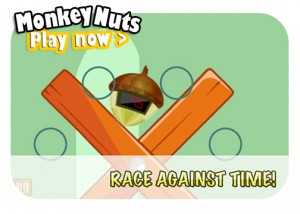 *Play the 'Monkey Nuts' game and download the app to your Android or Apple device, featuring the Stephen Fry film!
Are you quicker than a monkey? Collect the nut by rolling it through a range of engaging challenges using only your finger! Based on real puzzle feeders used by monkeys, Monkey Nuts pitches you against Joey, Kodak and Charlie Brown from The Monkey Sanctuary in a battle for the fastest times.
*Sign the petition and take action against the primate pet trade.
*Visit Joey and his friends at our project The Monkey Sanctuary.
*Encourage others to support primates by downloading our 'adopt a monkey' twibbon for your twitter or facebook page!
*Visit here to see how you can help fundraise for Wild Futures.