Ivor the Wise Old Monkey turns 25!
For most people turning 25 is not such a big deal, but for Ivor the woolly monkey it is something to celebrate, if Ivor was a human, he would be around 75 years old! Ivor is the oldest woolly monkey at Wild Futures' Monkey Sanctuary based near Looe, and he is loved by everyone.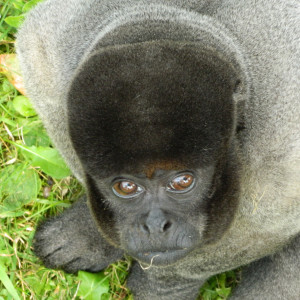 Although he is an old monkey, Ivor is still king of his colony with lots of responsibilities. Since his friend Maya passed away, leaving her young baby Lily, Ivor stepped up as Lily's main carer and he does a brilliant job at looking after her, but luckily for him, the other males are on hand to take over playing with Lily when Ivor gets too tired!
This story is not a million miles away from his own upbringing, as Ivor's mother also died when he was a young monkey. His sister took on the role of caring for him, much like he has done for Lily. When he was a youngster, Ivor was friendly and relaxed around his carers, however sadly he had a nasty fall when playing in the trees which resulted in a broken leg. He was taken to the vets and his leg was set in plaster, but when he re-joined the colony, he was rejected by the other monkeys due to the strange contraption on his leg!!  Luckily Ivor made a full recovery and was soon playing around with the others, although he never really trusted humans again, and often displays dominant behaviour around them. He is friendly and polite when he gets used to his carers, but will still not allow humans to think they are in charge at the Sanctuary!
You can come and visit Ivor when The Sanctuary opens for the season on 1st of April visit wildfutures.org for more information.