Primate charity launches urgent appeal to rescue Jerry the marmoset from a life of loneliness
Wild Futures, the leading primate welfare charity, has launched an appeal asking for funds to help save Jerry the marmoset from a life trapped in the UK primate pet trade.
Wild Futures is hoping to raise £3000 to bring him from North Wales to The Monkey Sanctuary, near Looe.
Jerry's exact age is unknown but it's thought that he is 3 or 4 years old and he has been kept as a pet in at least two different homes. It is likely that he was taken from his mother at just weeks old. Tragically for a highly social monkey, he has been kept in a life of isolation.
Jerry currently lives in a cage inside a house; he has no access to any natural vegetation and makes contact and alarm vocalisation's daily. His owners, who are expecting their first baby, contacted Wild Futures when they realised they couldn't cope, and they urgently needed to give him away.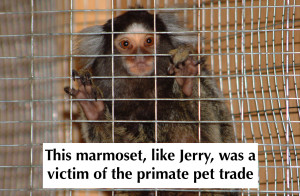 In the wild, common marmosets live in extended family groups of 3-15 individuals. The group usually consists of one adult breeding pair and their offspring, but can include two breeding males. The dominant adults will be the only members of the group to produce young; however the rest of the group will all help take care of them. The group will forage for food and sleep together, always with a sentry watching for predators.
Wild Futures needs to act fast to make sure that Jerry is given a home at The Monkey Sanctuary and to prevent him becoming a further victim of UK primate pet trade.
Monkey Care Manager, Tania El Dik said: "We must pick up Jerry on Friday and urgently need to raise the funds to be able to transport him safely to the Sanctuary, pay for his initial veterinary check, provide another temporary enclosure and cover the costs of his ongoing care. We are asking for people to pledge their support and make a donation, to change Jerry's life."
Wild Futures have recently rescued two other marmosets, Coco and Kiki, and have another two marmosets on a waiting list. Wild Futures along with other organisations are experiencing a huge increase in requests to rescue marmosets, but sadly most rescue facilities are filling up fast and few have any space available. That is why Wild Futures launched their Mission Marmoset appeal, to raise funds to build specialist enclosures at their rescue sanctuary based in Looe, Cornwall.
Jerry had a very sad start to life and is now showing signs of distress due to being alone so experienced carers at the Sanctuary are anxious to make sure that he is rescued as soon as possible, the alternative for Jerry is unthinkable.
Tania added: "Every penny counts and there are many ways to get involved and help out. Every rescue must be funded to ensure their long term care. You can even hold your own fundraising event to raise money for Jerry's appeal- and don't forget to spread the word! The more people those know about Jerry, and the plight of others like him in the UK primate pet trade, the better."
Please help Wild Futures give Jerry a chance of happiness by contributing towards his appeal. Thank you.
To donate, visit www.wildfutures.org/jerryrescueappeal or text MARM10 and the amount you want to give (e.g. MARM10 £10) to 70070. Call 01503 262532 for more information or to get involved.