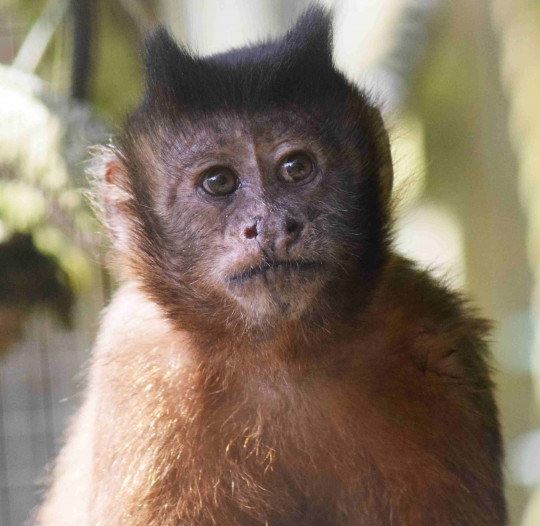 Name: Kiwi
Species: Capuchin

Who is she? The Tiny Whirlwind

Special skills: Trying to catch the eyes of all the handsome capuchin boys at the sanctuary!
Adopting
Adopting a monkey with Wild Futures really is a gift with a difference. Whether it's a gift for yourself or another, you will be supporting the work of our charity and enabling us to protect primates and their habitats worldwide. The monkeys featured in the adoption scheme reside at projects run by Wild Futures. Each monkey is unique with their own characters and personalities so please do check out their monkey pictures and profiles. As a Monkey adopter you will receive:
A cuddly monkey toy (optional)
Personalised certificate of your adoption
Photo of your adopted monkey
Your monkey's story
Species factsheet
Wild Futures newsletters throughout the year
Discounted entry fee to our Monkey Sanctuary
About Kiwi
Name: Kiwi
Species: Capuchin

Who is she? The Tiny Whirlwind

Special skills: Trying to catch the eyes of all the handsome capuchin boys at the sanctuary!
Kiwi arrived at our Sanctuary in 2010 after being kept as a pet in a breeze block outbuilding for many years with her mother, Gizzie, and long term companion, Grips. The cold, damp conditions had left her with painful arthritis and she was underweight due to a lack of exercise and poor diet. After just a few weeks of specialist care, her health improved dramatically and she is now thriving!
Her new surroundings have allowed her natural behaviours to blossom; she loves involving herself in the politics of neighbouring monkey groups and can often be found shouting support (or abuse!) across the enclosures! Her old friend Grips has since sadly passed away, but Kiwi has a very strong bond with the other monkeys in her group, and, thankfully, she doesn't really care for human interaction - unless there is a chance of a grape!
Kiwi has overcome a lot in her life, and is lucky amongst ex-pet primates to have spent her life alongside her mother. She is a friendly and outgoing monkey who loves making new friends to play with!
Primates are intelligent and sociable animals and being kept as pets is a lonely, under-stimulating existence that can lead to abnormal behaviours. These behaviours may remain with the monkeys for the rest of their lives, but with enough environmental stimulation, social company, and lots of territory space with access to branches and trees, we can help these monkeys recover and offer them a stable, stimulating, and social life at the Sanctuary.
Adopting Kiwi means that you are helping to provide the resources needed to give Kiwi the best life possible. Your adoption also enables Wild Futures to continue its vital work campaigning for an end to the primate pet trade in the UK and abroad.

PLEASE NOTE:
Our adoptions are purely symbolic, which means you will not receive any real animals in the post! Monkeys are wild animals – not domesticated pets.

Click here for Adoption Scheme Terms and Conditions.
Click here for delivery information.