URGENT MARMOSET RESCUE APPEAL
There are currently around 5000 privately owned primates in the UK and marmosets are the most common victims of inappropriate care. Together, we can save them.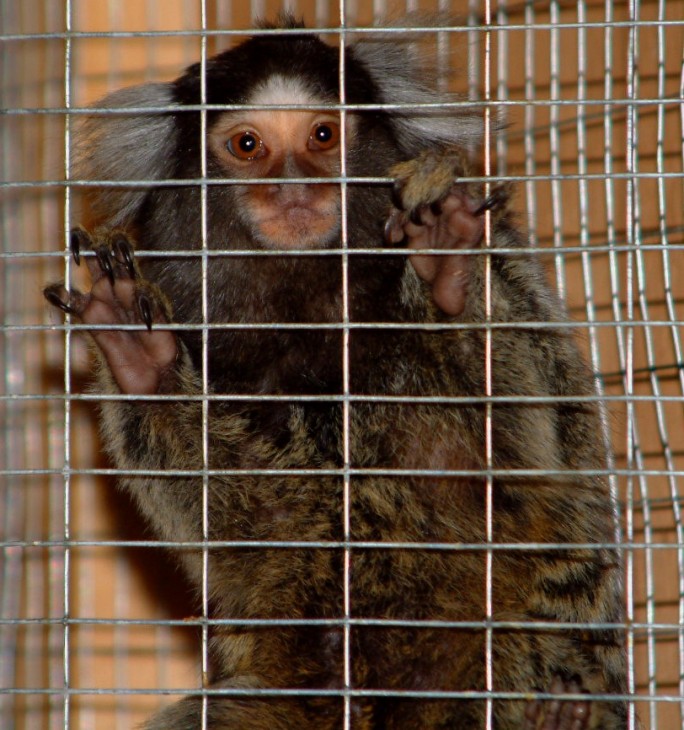 Marmoset monkeys are intelligent, social primates who naturally live in extended family groups in the lush rainforests of Brazil. These tiny, tropical monkeys are typically stolen from their mothers as infants and sold as pets for up to £1200. A lack of knowledge about their specialised needs often leads to them suffering terribly, physically and psychologically.
Millie and Speedy, pictured, are just two of many marmosets we have recently been asked to help.
Their stories are heartbreaking to read…

Speedy's owner was working overseas and didn't want him anymore. He was living in a small, empty birdcage, in a cold, noisy warehouse on an industrial estate, with just a scrap of cloth on the floor of his cage to sleep on. All alone, an inappropriate diet of banana custard led to a life-threatening episode of hyperglycemia. 

Millie's owners moved out of rented accommodation, leaving Millie and other pets behind. She was living on her own in a small cage in a windowless, draughty hallway of a house; denied access to UV light, which is essential for healthy bones. When we rescued her, she was overweight due to a poor diet and lack of exercise.
We worked quickly with our contacts to rescue Speedy and Millie and get them to safety, but stories like theirs are all too common. At present, we are unable to offer sanctuary to marmosets, but we know that they are out there and they desperately need rescuing. Due to a lack of re-homing space in specialist facilities, we fear that these individuals are often sold on, to continue a life of suffering in the pet trade.
We urgently need to raise £60,000 to build a dedicated marmoset facility at our Sanctuary.
With your help, we can provide a safe home for life and specialist care to dozens of little marmoset monkeys like Millie and Speedy – the smallest victims of the primate pet trade.
£60,000 will build a brand new complex of spacious indoor and outdoor enclosures to accommodate rescued marmosets in social groups; affording them a stimulating three-dimensional environment with natural vegetation, branches, ropes, platforms and hiding places to allow them to express natural behaviours and spend their days socialising with others of their own kind.
These monkeys really need us to end their lives of suffering.
Please help give rescued marmosets a second chance at life by contributing towards our appeal, we cannot save them without your generous support.

Donate by Text 
Simply text RESC01 plus the amount you want to give (e.g. RESC01 £20) to 70070 – you have the option to Gift Aid too!
Donate by Phone
Contact a member of our team on 01503 262 532  to make your donation over the phone.
Get Involved!
Email fundraising@wildfutures.org for a free fundraising pack and ideas on organising your very own fundraising event for the marmosets!
Thanks to our generous supporters in May we were able to start building for the marmosets! While we are still fundraising for the whole build,we have been able to start building a separate 'quarantine' enclosure. Read more
Thank you.