Adopt a Monkey
Adopt a monkey today and help us to protect primates and habitats worldwide.
Primates face serious threats worldwide, leading to forty three species now considered to be Critically Endangered. Deforestation and the bush meat trade are devastating wild populations and the cruel primate pet trade causes much mistreatment and neglect, with 5,000 privately owned primates suffering in the UK alone.
Help us to protect primates in the UK and abroad by Adopting a Monkey Today.
How you are helping primates:
Enabling our sanctuary to continue our vital rescue work and continue caring for monkeys rescued from abuse and neglect
Supporting our campaign to end the primate pet trade in the UK and abroad
Helping us to educate thousands of people about primate welfare and conservation
By symbolically adopting a monkey from just £3 a month, you will be helping to protect primates and support our vital work – you will make a real difference!
A single adoption (one person) from £36 per year/£3 a month
A couples adoption (two people) from £48 per year/£3.50 a month
A family adoption (2 adults and 3 children) from £54 per year/£4.50 a month
Monthly payments continue automatically until cancelled by the payer. Annual adoptions do not automatically renew  – we do not store your payment information. Monthly payments are only possible for UK bank accounts.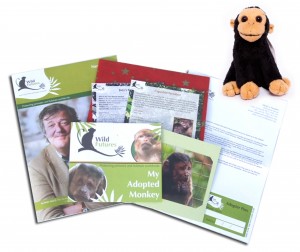 Your symbolic adoption will include:
A soft toy monkey (optional)*
Personalised certificate of your adoption
A photo of your adopted monkey
Your adopted monkey's story
A species fact-file
Our latest newsletter
A discounted entry pass to visit our sanctuary!
Our adoptions are purely symbolic, which means you will NOT receive any real animals in the post! Monkeys are wild animals – not domesticated pets. However, your adoption directly helps us to continue our charity's vital work protecting primates and habitats worldwide. Wild Futures is committed to ending the cruel primate pet trade.

 *monkey toy can differ from photo