Other Ways You Can Donate
A simple and effective way to help Wild Futures is to make a donation.  You can find out more about exactly how your donation is likely to be put to work by visiting the pages on Our Work.  Whatever the amount you can offer, your contribution will help to make a real difference to individual lives, and will help to ensure a positive future.
Donate by Post
Click and download a donation form to print and complete to return to us with your donation.
Address for donations: Wild Futures, The Monkey Sanctuary, Murrayton House, St Martin, Cornwall, PL13 1NZ
Donate by Text
Text MONKEYS 5 to 70450 to donate £5
Text MONKEYS 10 to 70450 to donate £10
Text MONKEYS 20 to 70450 to donate £20
Alternatively you can;
Text MONKEYS and the amount you want to give to 70450 to donate up to £20.00
*Texts cost donation amount plus one standard rate message*
Donate via Justgiving
The easy and paper-free way to make a donation, click on the button below to go to Wild Future's Justgiving page.

Thank you for your support

If you have a donation enquiry please email [email protected]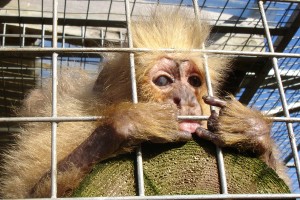 Missy – kept as a pet for nearly 40 years; she suffered physically and psychologically.  Missy passed away having never experienced life in the wild.  By making a donation today, you will be helping other monkeys like Missy in need of protection in the UK and abroad