URGENT MARMOSET RESCUE APPEAL
The first Marmoset Forever Home is nearly ready!


Meet Coco and Kiki, Wild Futures first rescued marmosets!
Coco and Kiki are just two of the many victims of the UK primate pet trade. Thanks to your generosity, we have been able to give them sanctuary. 
They are our first marmoset rescues, but we do not want them to be our last! We are appealing to all animal lovers for donations that will truly save lives.
The race is on to raise the valuable funds we need to finish our specialised enclosures so we stop saying no to these tiny victims of the trade and start saying YES!"
With your help, we can provide a safe home for life and specialist care to dozens of little marmoset monkeys like Coco and Kiki.
Rescue centres and sanctuaries are turning away monkeys because there are simply not enough facilities available. In the last few months Wild Futures' Mission Marmoset Appeal has raised over £35,000 of the £70,000 target.  and work has started on the specialised enclosures necessary for these delicate animals.
How your money has helped so far:
It has built the "quarantine" area that enabled us to rescue Coco and Kiki and will be their home until we have completed their specialised enclosures!
It has allowed us to start building the first of two Big Builds –  Coco and Kiki's forever home!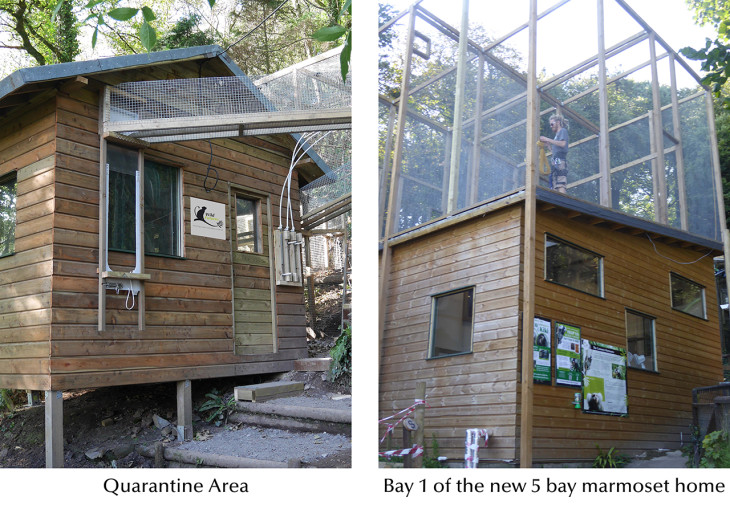 Sadly, there are many more marmosets, just like Coco and Kiki, who are waiting to be rescued. Tragically, Wild Futures cannot accept more marmosets until the first big build is finished. Due to a lack of re-homing space in specialist facilities, we fear that individuals are often sold on, to continue a life of suffering in the pet trade.
Help is urgently needed to save more marmosets, the smallest victims in desperate need of rescuing.
Wild Futures is appealing for your continued support in raising more funds to give Coco and Kiki and their future friends the quality of life they deserve.
Marmoset monkeys are intelligent, social primates who naturally live in extended family groups in the lush rainforests of Brazil. These tiny, tropical monkeys are typically stolen from their mothers as infants and sold as pets for up to £1200. A lack of knowledge about their specialised needs often leads to them suffering terribly, physically and psychologically.
We need to call on your generosity once more to help us continue caring for Coco and Kiki and to push on with and finish their specialised enclosures.
Help us finish the first Big Build:
£20 buys blankets and hammocks.
£100 provides bark chippings for the monkeys to forage in.
£500 furnishes a new marmoset home, including nest boxes for a secure night's sleep.
£1000 provides the planting – herbs, grasses and shrubs – that these tiny monkeys have been denied in their lives as pets.
£2,000 completes the amazing roof top enclosures giving the marmosets access to the space and sun they deserve.
£5000 provides the medicine and food preparation area essential for keeping the monkeys healthy.
£7000 will provide the heating system vital for these delicate tropical monkeys.
£40,000 provides enough funds for the second Big Build –  new complex of spacious indoor and outdoor enclosures to accommodate rescued marmosets in social groups; affording them a stimulating three-dimensional environment with natural vegetation, branches, ropes, platforms and hiding places to allow them to express natural behaviours and spend their days socialising with others of their own kind.
Remember that every pound adds up and changes lives! 

Donate by Text 
Simply text RESC01 plus the amount you want to give (e.g. RESC01 £20) to 70070 – you have the option to Gift Aid too!
Donate by Phone
Contact a member of our team on 01503 262 532  to make your donation over the phone.
Get Involved!
Take a look at our fundraising pack below for ideas and tips on organising your very own fundraising event for the marmosets.
Thank you!